This is my first post after finishing the original 12 week goals & coming up with
new goals
. I've been a little more lax these 3 weeks. I was getting quite frustrated with worrying about every little thing I ate, feeling like I was doing what I was supposed to be doing & not seeing the results I was hoping for. So, I've chilled out a bit & am trying not to worry about each little morsel of food.
• FOOD & DRINK •
A couple weeks ago I changed my daily net caloric intake from 1200 to 1350. Since then, though, I've only logged my food twice. I'm really losing interest in logging.
I'm trying to stick to the same sort of meals I ate for the first 12 weeks & hoping that same method works for a slow, but continuing weight loss. If I start gaining weight, maybe I'll start logging consistently again.
• EXERCISE •
My new goal is to exercise 5 times per week. This chart shows the days I ran on the elliptical & how many calories I burned. Obviously, it is not showing exercise 5 times each week. That is because we've been having beautiful spring weather & most of my exercise has come in the form of yard work. I have know idea how many calories I burn pulling weeds & digging dirt, so I'm not logging it. These are the times a fit bit would probably come in handy.

I'm not sure if the yard work will help or hinder my goal of a 1:30 quarter marathon time next month. But, I'd rather work outside than run inside on a machine.
My exercise came from digging, hoeing & raking this weedy mess into a beautiful heather haven.
My arms have gotten the best workout they've had in years doing all this digging. I'm changing this area that has always been a problem into a pond.
I'm so happy to see this graph with a downward line.
Some how my layed back approach these last 3 weeks worked for me. I lost 4.8 pounds! That's the most I've lost since the first 3 weeks.
Weight Loss
Week 1
: Starting Weight
Week 3
: -5.2
Week 6
: -3.4
Week 9:
-.4
Week 12:
-2
Week 15: -4.8
Total: -15.8 pounds
I can officially add the 15 pounds lost badge! This is the one I've been waiting for since the
beginning of January
. It took me a little longer than I hoped, but I did it!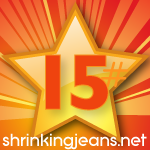 I have realized slow & steady is what works for me. I don't have a weight loss secret or huge numbers to show off. I've been eating better, cut way back on my terrible soda habit & have been exercising. It took me 15 weeks to lose the 15 pounds.
My next goal is to lose 1.2 pounds. I know it's not much. But, when I reach that number I will be out of the obese category & into overweight for my bmi.